Young Artist School of Painting
I Wayan Pugur, 1958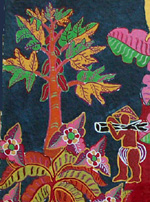 Adapted from an article by Greg Cruey
For much of the late 40′s and 1950′s Indonesia as a whole laid aside art for politics. But a new burst of creative energy came to Bali in the 1960′s in the form of Dutch painter Arie Smit (1916-).
The story is that Smit, while visiting Bali, was walking through a stretch of countryside near the village of Campuan when he happened upon a group of boys drawing in the sand. He was impressed by their talent and invited them to his studio, where they promptly became his students. Smit gave them the material they needs, taught technique, but was careful not to make suggestions about content or color. And he did not let them see his own painting.
Smit had come to Indonesia as a Dutch soldier and stayed on Java after independence. Among other things, he taught art and drawing at a university in Bandung. In 1951 he applied for Indonesian citizenship to keep from being expelled from the country. He first visited Bali in 1956.
The Young Artists Movement which developed from Smit's students was a lively, sometimes humorous, genre with color and line characteristics which, while unique within the history of Balinese art, remained essentially Balinese. At its height, the movement probably included between 300 and 400 artists.
The Young Artists Movement has been given mixed reviews by history. Smit distanced himself from it in order to allow the Balinese he'd taught to stand (or fall) on the merits of their own arts. Smit himself went on to an outstanding artistic career in Bali.
An early example of paintings from the Young Artist School is shown below. This painting, by I Wayan Pugur (b. 1945), was executed when he was 13 years old and was exhibited at the San Francisco Museum of Modern Art in 1964, as part of a traveling exhibition in the United States in 1964-1965. This early drawing, executed on paper, exhibits the use of bright colors and a balanced composition. The drawing space is divided into three solid-color areas: dark blue, bright yellow and magenta in between showing the influence of the Wayang painting tradition. The leaves of the large tree with the snakes show the juxtaposition of complementary colors. The faces of the figures were drawn with no details, yet the snakes have eyes and long tongues.
Another fine example is a painting by I Ketut Soki (b. 1960) depicting the Hell in the Balinese mythology.
Major artists from the Young Artist School are I Wayan Pugur, I Ketut Soki, I Ngurah KK, I Nyoman Londo, I Ketut Tagen, I Nyoman Cakra, I Nyoman Gerebig, I Nyoman Mundik, Ni Ketut Gampil and many others.
Selected Works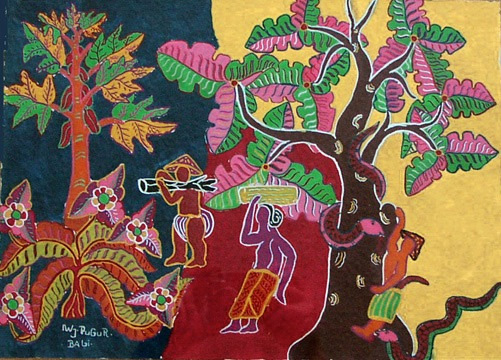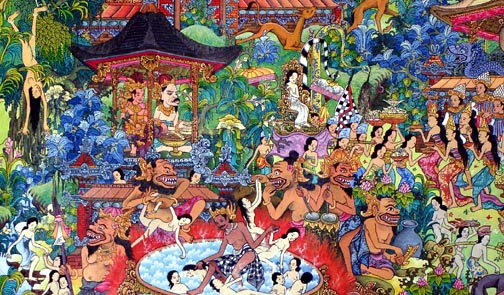 General Reference:
"Peasant Painters from the Penestanan Ubud Bali – Paintings from the Collection of Datuk Lim Chong Keat", National Art Gallery Kuala Lumpur (1983).